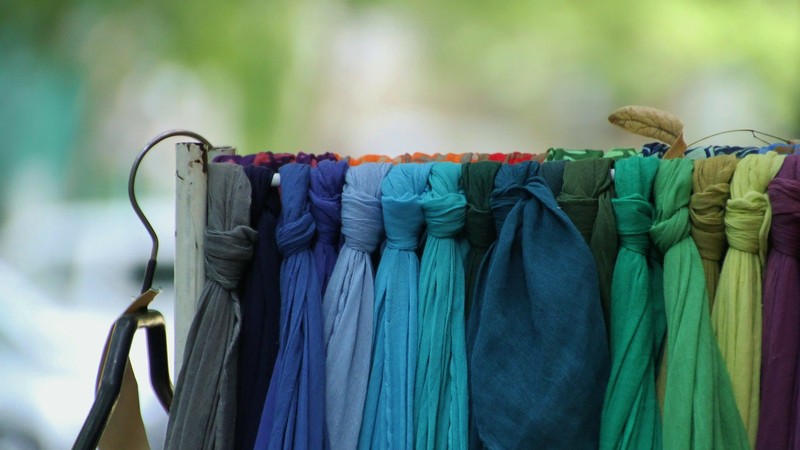 Using the hashtag #WardrobeChange, a campaign for the project Make Europe Sustainable For All calls on EU leaders to radically change the textile industry. Since several Sustainable Development Goals (SDGs) are closely linked to the modes of production and consumption within the sector, there is an urgent need for concrete measures on an institutional level.
Article and translation by Caroline Krecké
The global textile industry is worth around 3 trillion (10¹²) US dollars, making up 2 % of the world's GDP. It employs several million people, of which 1.7 million are working in Europe alone. However, both the production and the finishing of garments are associated with a number of social and ecological problems: In a recent report, published in December 2019, the European Environment Agency points out that textile production ranks fourth highest in pressures on the environment and second highest concerning land use.
Moreover, the sector's contribution to CO2 emissions is the fifth highest, with its total of 1.2 annual tons of CO2  exceeding the amount of all greenhouse gas emissions from international flights and maritime shipping combined.
Besides emissions and energy consumption, the vast quantities of water required for production, the use of pesticides, and the extensive use of other chemicals are highly problematic factors from an ecological point of view. Additionally, conflicts concerning land use may have repercussions on food security. Obviously, mere efficiency gains are not going to suffice when it comes to addressing and implementing the numerous SDGs linked to the textile industry: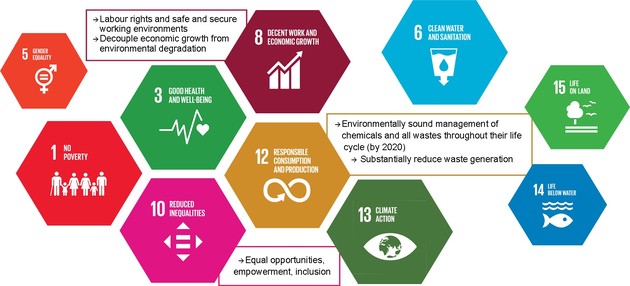 Microplastics from our washing mashines
Another reason for concern lies in the everyday use of textiles: Washing leads to small particles of plastic-based garments being detached and dispersed (but not dissolved) in water – these are so-called microplastics. Each year, half a ton of microplastics are washed down the drain (16 times more than micro beads from cosmetics). So far, these particles are not sufficiently filtered from waste water, creating a danger to fresh water sources and oceans – and thus a danger to humans.
From shopping streets to landfill sites
Cheap items, changing trends, defective quality, and the media-supported desire for Fast Fashion: There are several factors leading garments to be thrown away earlier than necessary, leading to increasing amounts of garbage – in the absence of effective recycling. From the fibres used for production of clothing, a total of 87 % are burned or deposited on landfill sites. This represents a massive loss of resources and complicates efficient solutions for land use and emissions.
Social factors of production
Moreover, production sites for the textile industry are often associated with problematic socio-economic factors: scarce or inexistent labour rights, dangerous working conditions, violations of human rights, and payment that barely covers subsistence needs.
The highly publicised fire in a textile factory in Bangladesh (2012) serves as a good example of the often dramatic circumstances, including cases of negligence, when it comes to safety at workplaces and humane work.
The retail price does not reflect a garment's production conditions, especially since factories are sometimes subject to subcontracts and are therefore often overlooked by inspectors.  An aggravating factor to all this is the fact that more than three quarters of the clothing industry's workforce is formed by women.

Lacking transparency and label chaos
While several labels address these problems, there is still a lack of transparency and consistent information as to which certificates and labels actually secure better conditions for workers. The Clean Clothes Campaign, founded in 1989 (Austria: 1996), is dedicated to changing the industry's worker's rights standards and points out frequent and systematic violations of the human right to just and favourable remuneration, ensuring a dignified existence (Universal Declaration of Human Rights, Article 23). On the campaign's website, consumers can find exhaustive information and links, the Austrian site also includes an assessment of individual brands and compact information on labels, in order to facilitate a more conscious choice of alternatives.
Circular economy in the Austrian government programme
The new government programme, published in January 2020, includes a comprehensive list of plans for an effective circular economy, and aims at aligning national measures to the European Commission's Green New Deal.
The document mentions: longer life cycles, a further development and implementation of the current programme for waste reduction ("Abfallvermeidungsprogramm"), the promotion of repair services, an action plan against microplastics, a reduction of plastics (including a legally binding reduction of 20 % in plastic packaging), etc.
Moreover, the government plans to speak out in favour of concrete measures on a European level, e.g. concerning a ban on microplastics in production (details: Austrian government programme, pp. 10-12, 140-149).
Demand for transition
The Austrian government's ambitious plans represent an important step in the right direction, provided they are implemented. However, we are in desperate need for national, European and global political measures to achieve a sustainable textile production and consumption, and to fulfil the Sustainable Development Goals.
Let us jointly demand coherent actions as a direct consequence of the Green New Deal announced by President of the European Commission, Ursula von der Leyen – a #WardrobeChange has been overdue for a long time.
ÖKOBÜRO and a number of other organisations are engaged in the campaign #WardrobeChange, forming part of the project Make Europe Sustainable for All (all related activities and updates will be published on the campaign's website).
SDG Watch Austria also hosts an initiative on sustainable economy, formed by organisations like Repanet, Gemeinwohlökonomie, Forum Tomorrow and FuturAbility, which, among other activities, help companies with increasing their focus on sustainability.
What can I do?
Spread information – We need to inform others about the hidden costs of the textile industry. Share the #WardrobeChange video or this article on Social Media.
Try to avoid waste by repairing and re-using things:

Have you thought about organising a clothes swapping party instead of your next shopping trip?
Browse local secondhand stores, instead of buying new clothes online.
Find out if the item you are looking for is for sale on an online marketplace for used fashion.
Make use of repair services, visit Repair-Cafés or DIY workshops.

Pay attention to fair production standards: Several websites (like the Clean Clothes Campaign's) inform you about ethically produced brands and sustainable shops in your area.
Further information
• EU project Make Europe Sustainable For All
• Campaign #Wardrobe Change
• Clean Clothes Campaign
• Comparison of fabric materials (by Beeco)
• Environmental standards in the textile and shoe sector
Mehr zum Thema